When you have a large number of people to sweeten up, you'll need a whole lotta brownies! Here's the pricing breakdown based on the quantity of brownies:
25 to 100 brownies: $5.40 each
101 to 200 brownies: $5.10 each
201 or more brownies: $4.50 each
Your bulk discounts will automatically apply to the cart. Don't forget to add the total number of brownies required in the quantity box! - This product is 100% gluten-free! 
Add the total number of brownies required to this quantity box
View full details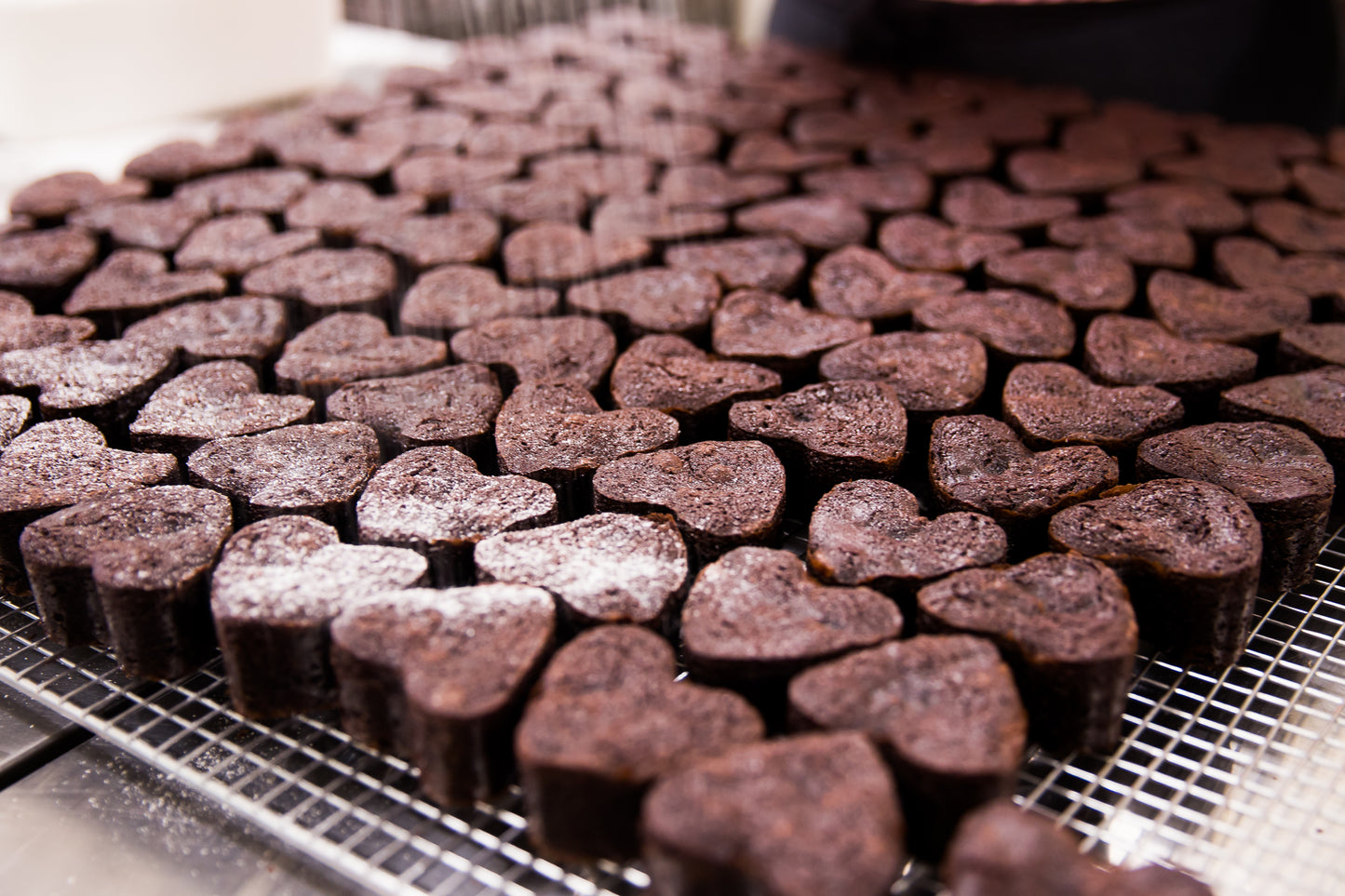 FAQ's
Large Order Delivery Information

We can personally deliver orders of 25+ brownies within 15km of Brisbane CBD, free of charge. Your discount will automatically be applied at the checkout.
Large orders outside of this delivery range can be collected from our bakery during business hours. Alternatively, we can help to organise a courier to deliver your order if it is outside of the 15klm zone. We will contact you when we receive your order if we need to discuss delivery options with you.
Allergy, Ingredient & Nutrition Information

Gluten-Free: I Heart Brownies are all Gluten-Free! We make them in our dedicated 'Gluten-Free' commercial kitchen.

Dairy-Free: If you are avoiding dairy, our Dairy-Free and Vegan flavours are suitable for you to consume.

Nut-Free: We do use nuts in our kitchen however we take care to minimise the risk of cross-contact between I Heart Brownies with nuts and those without.

Vegan: We have a Vegan brownie that will knock your socks off! Currently available in our Original Chocolate flavour.

Soy is present in the chocolate we use to make our brownies. If you are unable to eat soy, our brownies are unsuitable for you to consume.


If you are anaphylactic to nuts, egg, soy, or dairy we do not recommend that you consume our products.


You can find full ingredient and nutrition information for all of our brownie flavours Click here
Brownie Shelf Life

I Heart Brownies are preservative-free and best consumed within three days if kept at room temperature. If you refrigerate your brownies they will remain delicious for 3 weeks and when frozen, for 3 months!

Pro Tip: Keep your brownies in an air-tight container for max freshness.
What our customers are saying...
I Heart Brownies are our go to brownie

We regularly buy and take I Heart Brownies to presentations that we give and they are always well received. The order and delivery process is really easy to use. Thanks to the whole I Heart Brownies team.

I sent 4 gifts of I❤️Brownies

PI sent 4 gifts of I❤️Brownies, and all were received on the same day in completely different postcodes, 2 metro, 2 regional, and all were extremely well received. Comments were that gifts of edible items often do not arrive well, but the I❤️Brownies were excellent, delicious and extremely enjoyable. I made 4 groups of people very happy

You guys are quickly becoming my go to…

You guys are quickly becoming my go to for remote gifting! Thanks so much for such amazing product and service…my kids now have a iheart brownie wish list! So much better than sending flowers 🤗

You won't find a better Gluten Free Brownie

This company is absolutely fantastic. They make the most amazing gluten free brownies! Their communication is excellent and their service is awesome. I recommend them to everyone and have used these as Thankyou gifts for people as well.