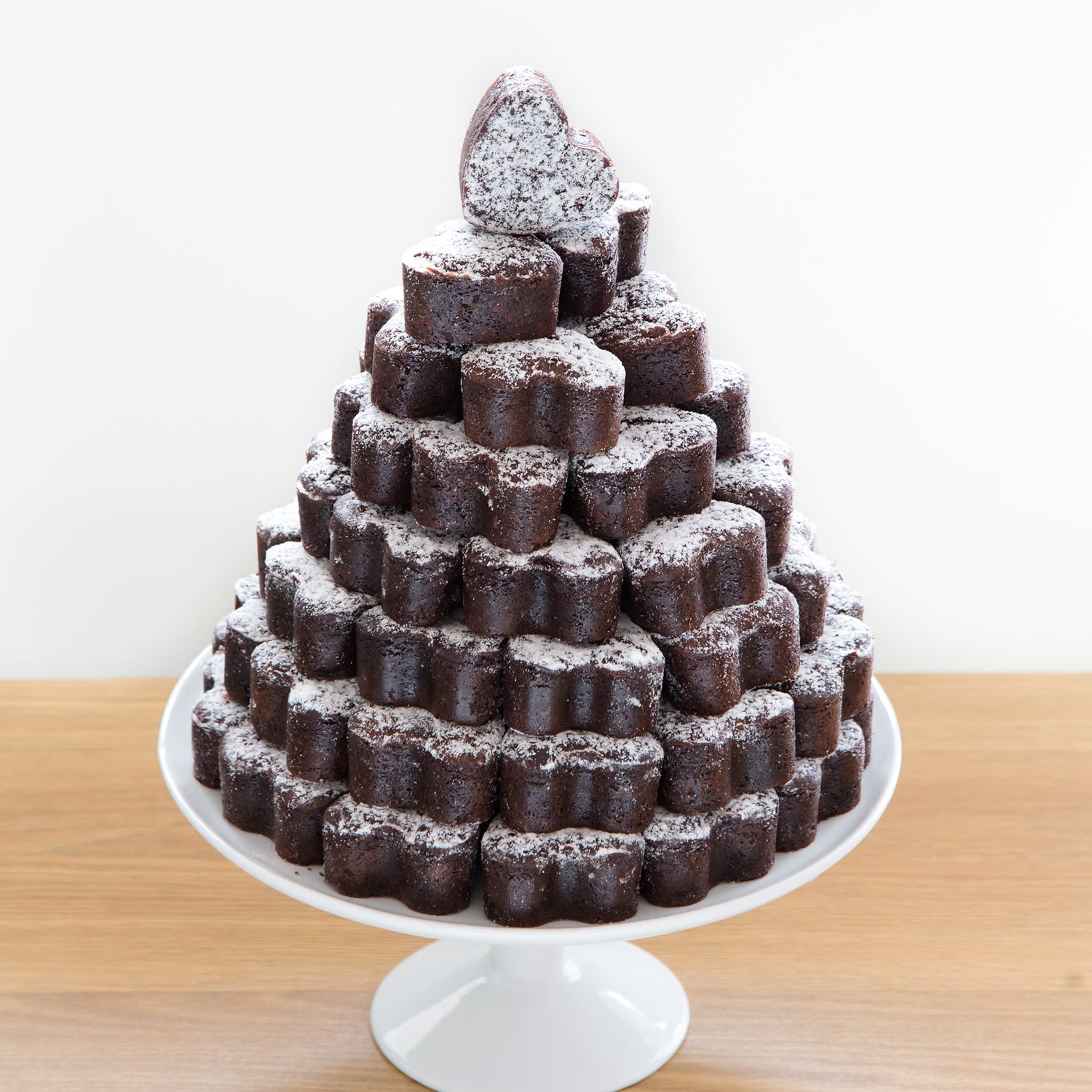 Build your own brownie tower
Our 'build your own' brownie towers are easy to construct and a wonderful alternative to a traditional celebration cake.
Step 1: Download our guide to choose a configuration for your Brownie tower.
Step 2: Read our FAQ's below
Step 3: Once you know how many Brownies you need, place your order online store using the 'Celebration Tower' option on the 'Shop Bulk Brownies' page.
Step 4: Once you receive your brownies, build your tower based on our guide.

We recommend using 66 brownies for your tower however less brownies can be used to make a smaller tower. Using the downloadable guide, choose the number of tiers that you will need based on the number of brownies that you will be using.
Download our Guide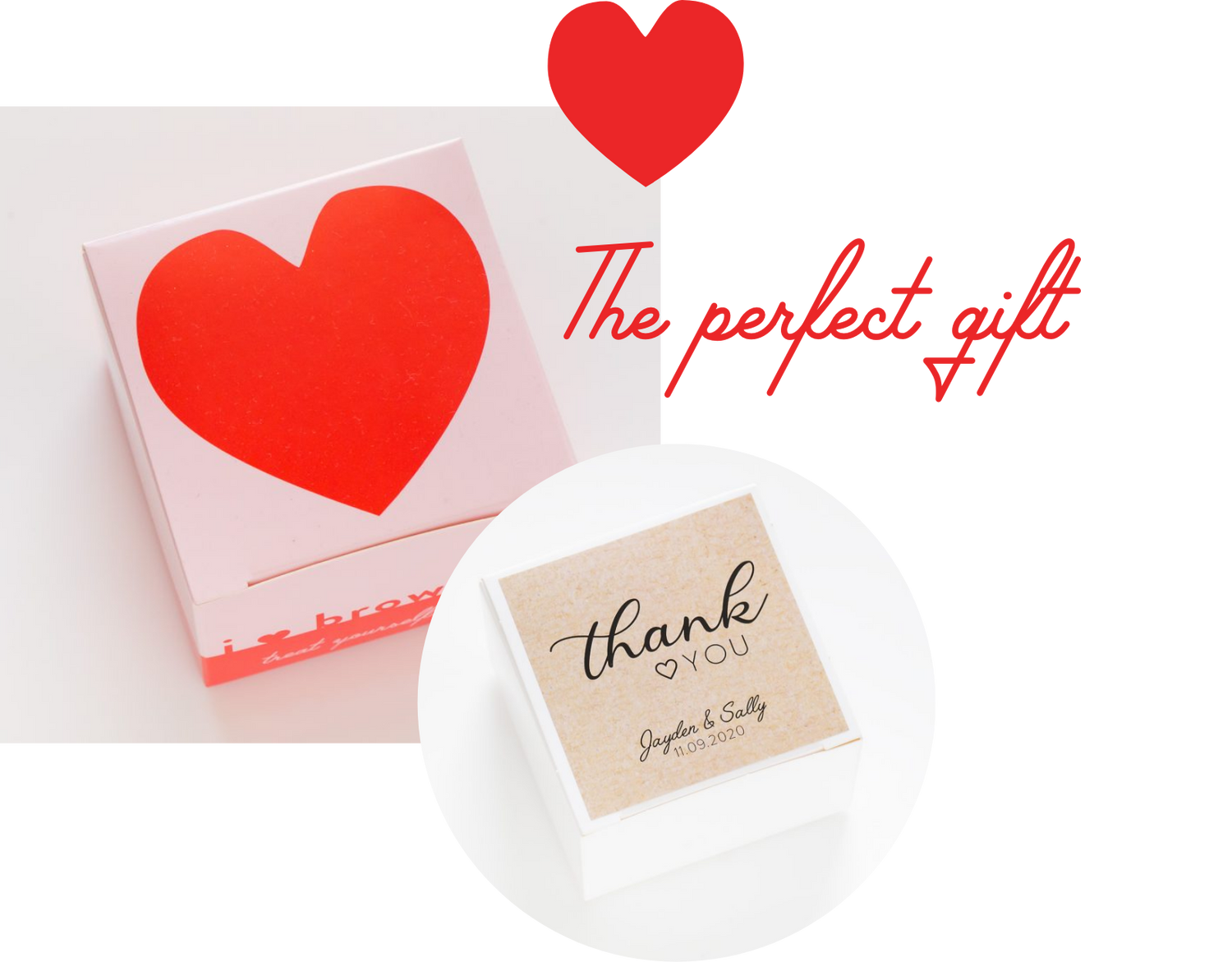 Individually boxed brownies
Our individually boxed brownies are the perfect gift for your guests to take home.
You can choose our branded or plain white boxes, or provide us with boxes of your choosing. If you are looking for a personalized box, we can add a sticker, of your creation, to the top of your box to make it your very own.
Get a custom sticker quote
Celebration FAQ's
How far in advance do I need to order?

We prefer as much notice as you can give us for your order. If you are waiting for your guests to RSVP, we recommend letting us know about your intended order at least 4 weeks in advance, with estimated numbers. You can place your final order at least one week in advance.

NB: If you are having custom printed stickers, please note that the notice period is longer.
Can I get brownies for my Dairy-Free & Vegan guests?

We will always pack your dairy-free and vegan brownies separately from the rest of your order. If you are ordering our branded individual boxes, a tick-box on the rear of the box will have 'dairy-free' or 'vegan' selected.
Can you deliver directly to our venue?

We can personally deliver brownies to venues within 15k's of Brisbane CBD. For venues outside of this area, you will need to organise pick-up and delivery of your brownies. 

NB: To ensure that your celebration brownies arrive at your venue in perfect condition, we choose not to send them with a courier.
Can you deliver on the day of our event?

We deliver Tuesday - Friday (except public holidays) between 9am and 5pm. We are unable to guarantee delivery at a specific time.

Pro tip: We always recommend having your brownies delivered a day or two before your celebration. Most venues have cold room facilities that can be used to store your brownies to ensure that they remain fresh for your celebration.
If my event is cancelled or postponed, can I get a refund or credit?

We understand that the world sometimes throws us and our best-laid plans a curve-ball and that you may need to postpone or cancel your event. If this happens we will work with you to find a solution that best meets your needs.

NB: We are unable to offer a credit or refund on orders that have already been delivered or in-transit for delivery. We cannot offer refunds on custom packaging that cannot be repurposed.
Can you set-up our brownie tower?

We are unable to build your brownie tower for you. We recommend asking a friend or relative if they feel comfortable doing this for you.

Pro Tip: Most venues are happy to build the tower for you as well, just make sure you give them notice and supply them with the instructions.
What are the storage instructions & shelf life of the brownies?

I Heart Brownies are preservative-free and best consumed within three days if kept at room temperature. If you refrigerate your brownies they will remain delicious for 3 weeks and when frozen, for 3 months!

Pro Tip: Keep your brownies in an air-tight container for max freshness.
Is there a discount for larger orders?

When you purchase 25 brownies or more, discounts apply. See our 'Discounts' page for the low-down
What our customers are saying...
We have always loved I heart brownies,

so when it came time to choosing a dietary dessert for our wedding, we didn't think twice!What we didn't account for is that everyone loved these more than our wedding cake! We should have done brownies for all!!

10/10 Brownies!!!!!!

We had a brownie tower as our wedding dessert and the feedback we got from guests couldn't have been better! Not one bad word about them and rightfully so! They were so tasty and the perfect treat for people to grab. Would 100% recommend to anybody.

Highly recommend

I heart brownies never disappoint. They are so delicious and are always a crowd pleaser. Ordering online and for delivery made it all the more easy to have delicious brownies delivered straight to your door. I will definitely be back for more and would highly recommend to anyone who hasn't tried them.